Huge Bonus this Father's Day celebration, Da Ma Cai RM3.5 Million 3+3D Bonus Won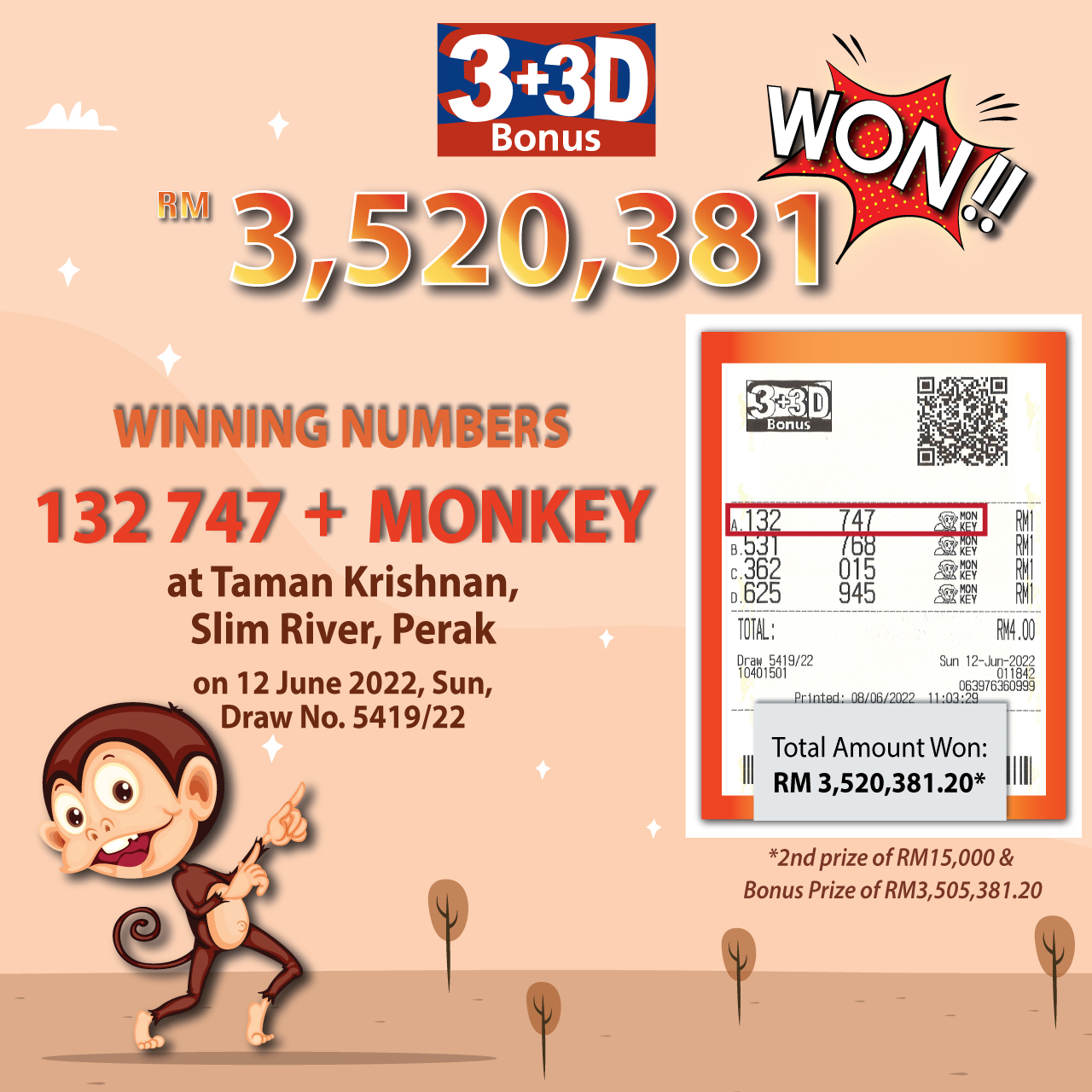 17 June 2022
A plantation worker from Perak took home an early bonus from Da Ma Cai last weekend. He was the sole winner of the Da Ma Cai 3+3D Bonus game that made him richer by RM3,520,381.20. The total amount won includes the 2nd prize of RM15,000 and the multi-million bonus prize of RM3,505,381.20.
"This 3+3D Bonus game is really interesting. Besides playing the usual 6-digit numbers combination, we just add on a Chinese zodiac sign for a chance to win the bonus prize.  My winning combination of 132 747 is derived from my father's birth date and my personal favourite number. I chose Monkey for the zodiac selection since it is also my father's birth year. This is definitely one of the most memorable Father's Day I will share with my dear father as his number has brought fortune to me," said the winner.
Da Ma Cai spokesperson said, "This game is the first of its kind in the country, as it also carries the Bonus element which corresponds with Chinese Zodiac. The game has the highest prize payout of RM120,000 with an investment of just RM1. This game is designed to offer customers with 45,977 winning prizes and 3 additional Bonus winning chances."
The spokesperson added, "Today's winner won the 2nd prize of RM15,000 and the snowballed RM3.5 million Bonus prize. It is very easy to play the game as one just need to form a 6-digit numbers combination then pair with a Bonus Chinese Zodiac. There are still 1st prize Bonus and 3rd Prize Bonus at RM1.96 million and RM1.52 million respectively to be won. So, don't miss out!"
First thing in his mind, the lucky winner said that he plans to gather family members for Father's Day celebration as appreciation and he will use his windfall to buy a house for his family.
Da Ma Cai is a brand of Pan Malaysian Pools Sdn Bhd ("PMP"), Malaysia's authorised numbers forecast operator. On an annual basis, Da Ma Cai actively supports various causes in the areas of education and social welfare through a wide range of programmes and activities carried out in the country. Following the acquisition of PMP by Jana Pendidikan Malaysia Sdn Bhd ("JPM"), all of PMP's net dividends that JPM receives will be donated to The Community Chest. With this structure, Da Ma Cai has effectively been transformed from a for-profit organisation into a social business, providing long term donations to The Community Chest for the benefit of the Malaysian community.