Da Ma Cai Timely Aid to Flood-affected Charitable Organisations
20 January 2022
Continued heavy rainfall last month has resulted in detrimental effect of  flood in many states nationwide. In aid of the flood victims, Da Ma Cai organised its Staff-in-the-Community Programme: Flood Relief Initiative for two charitable organisations located in Klang, which is one of the worst flood-affected district in the Selangor state.
Eve, the Administrator of Persatuan Rumah Kebajikan Rita (Rita Home) located at Kapar, thanked Da Ma Cai for the prompt assistance, "Our mattresses were badly damaged during the massive flood. We are thankful we have enough mattresses for our old folks now. Some of our elderly are bed-ridden, therefore the hospital grade waterproof mattress is really a great help during this challenging time."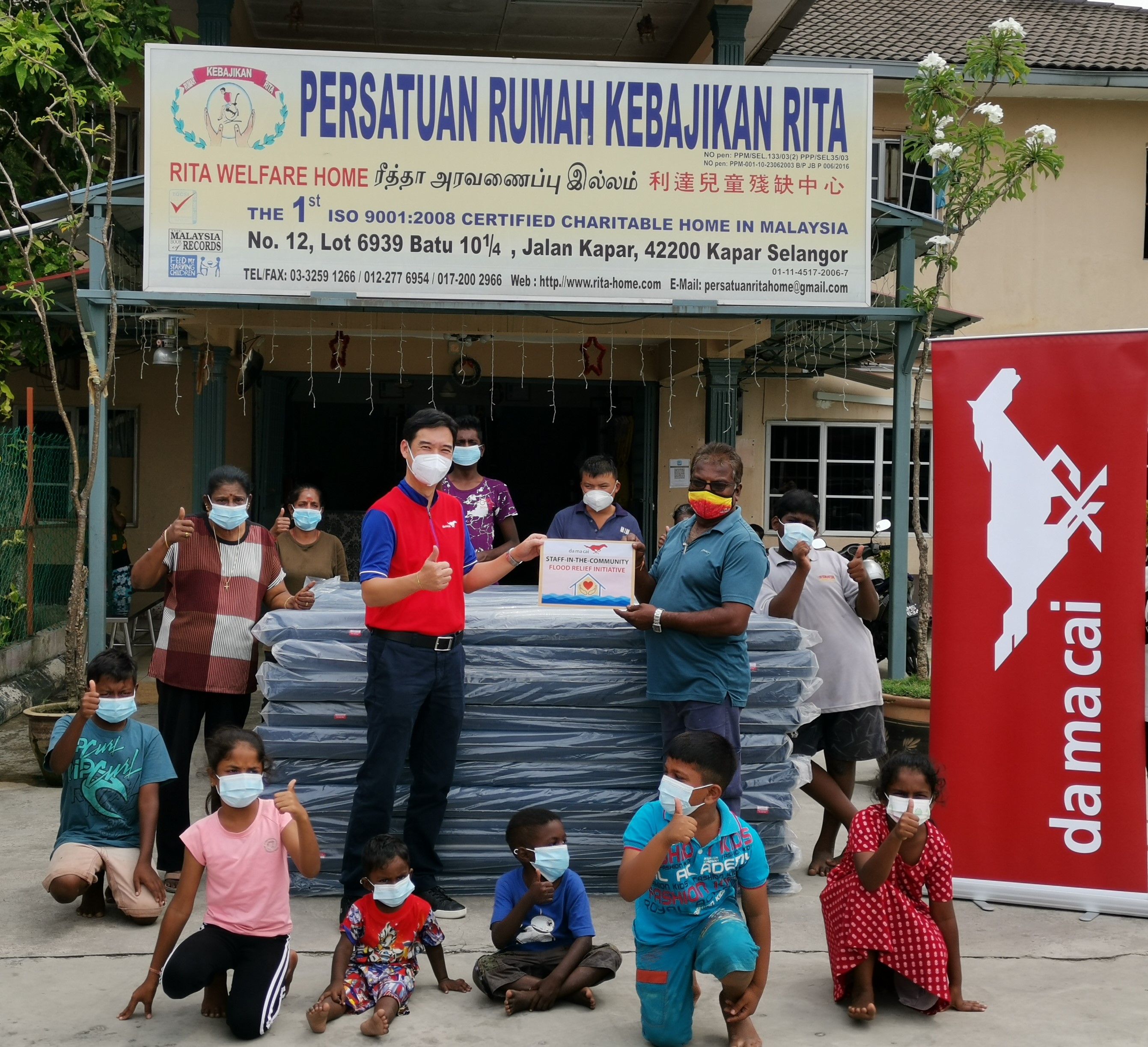 Children from Persatuan Kebajikan Kanak-kanak Selangor (PKKKS) at Klang Utama received school uniforms and stationeries together with food vouchers. "Most of our items were damaged in the flood. Due to this unprecedented crisis, our founder, Madam Usha suffered a stroke and passed on," said devastated Rinna, who took over the role from her mother-in-law, Madam Usha in managing the orphanage.
 "Many charitable organisations struggled to get necessities while having to deal with this unprecedented aftermath. Good Samaritans offered support in the form of shelters, food, clothing and cash aid. With the spirit to serve the community in times of need, we hope to be part of the collective strength to help the victims to overcome these difficulties, and return to normalcy as soon as possible." said Da Ma Cai spokesperson.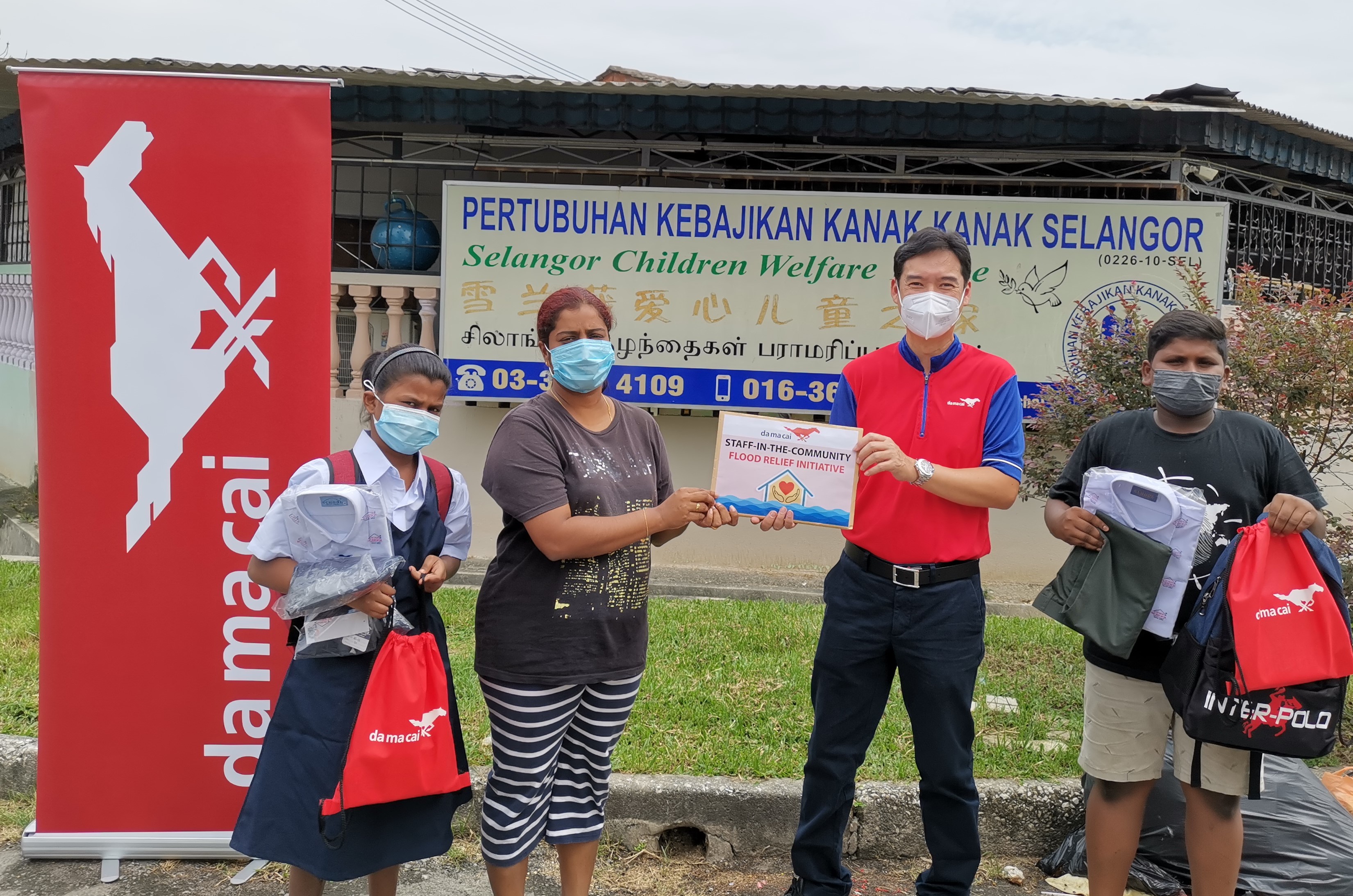 A simple handover were held at the respective organisations in accordance with standard operating procedures.
Rita Home established since 1997, is a residential institution devoted to the care of orphans of various disabilities and senior citizens. The centre currently cares for 40 children and 58 old folks.
Founded in 2004, PKKS is a home for orphans and abandoned children. The orphanage currently provide food, shelter, education and care for 46 children.
To learn more about how you can help the residents of Rita Home and PKKKS , please contact:
Persatuan Rumah Kebajikan Rita – Eve at 03 – 3259 1266 or 016 – 244 9598
Persatuan Kebajikan Kanak-kanak Selangor – Rinna – 016 – 361 3179
Da Ma Cai is a brand of Pan Malaysian Pools Sdn Bhd ("PMP"), Malaysia's authorised numbers forecast operator. On an annual basis, Da Ma Cai actively supports various causes in the areas of education and social welfare through a wide range of programmes and activities carried out in the country. Following the acquisition of PMP by Jana Pendidikan Malaysia Sdn Bhd ("JPM"), all of PMP's net dividends that JPM receives will be donated to The Community Chest. With this structure, Da Ma Cai has effectively been transformed from a for-profit organisation into a social business, providing long term donations to The Community Chest for the benefit of the Malaysian community.