Lucky Winners from Kuala Lumpur and Penang Share RM25.6 million Da Ma Cai 1+3D Jackpot Prize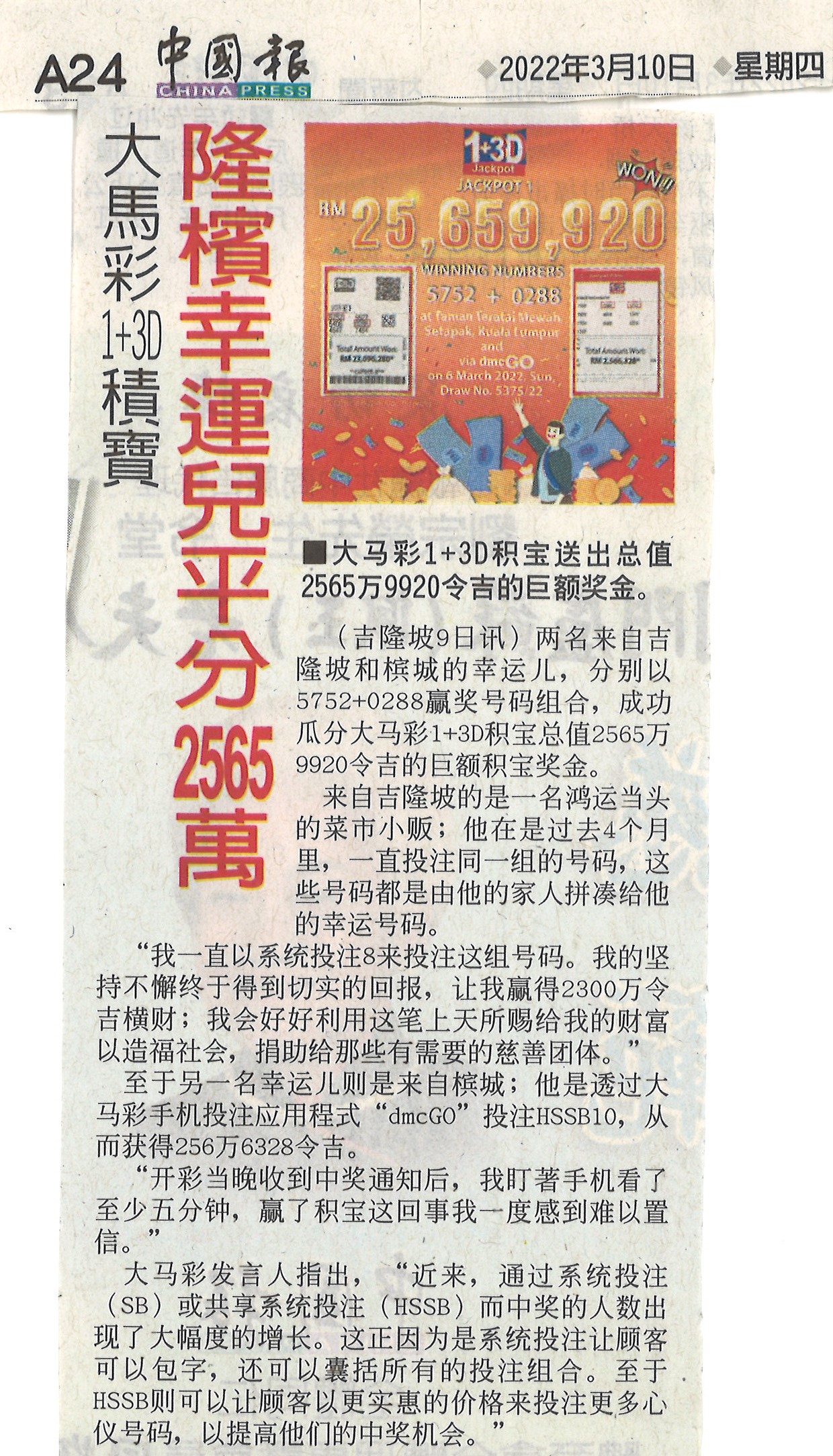 China Press, p. A24 (10 March 2022)
Two lucky winners from Kuala Lumpur and Penang shared the Da Ma Cai 1+3D Jackpot 1 prize of RM25,659,920 with the winning combination of 5752 + 0288.
The lucky market trader from Kuala Lumpur has been consistently buying the same set of numbers for the past four months. The set of numbers consist of personalised numbers suggested by his family members.
"I always buy the System Bet 8 that covers all these numbers. Finally, my persistence paid off and I won this RM23 million jackpot of my dream. This good fortune is really a blessing for the family, and I will use this unique gift to perform my social responsibility to assist those in need and contribute to charities that are close to my heart", said the lucky winner.
Another lucky winner from Penang bought a HSSB10 ticket through dmcGO, Da Ma Cai's mobile betting app, and won a share of the Jackpot 1 prize of RM2,566,328.
"I stared motionless at the phone for at least 5 minutes. I was in complete shock and disbelief when I received the notification the night itself after the draw informing me that I had won the jackpot," the winner told.
Da Ma Cai spokesperson said, "There has been rising number of winners that placed their bets through system bet or HSSB. System Bet allows a customer to "pau" and cover all possible pairing combinations for the 1+3D Jackpot numbers. As for HSSB, it is an affordable option for Da Ma Cai customers to play 1 share of a system bet to increase their chances to win the jackpot."