Da Ma Cai RM120,000 Community Aid for 10 Welfare Homes in Melaka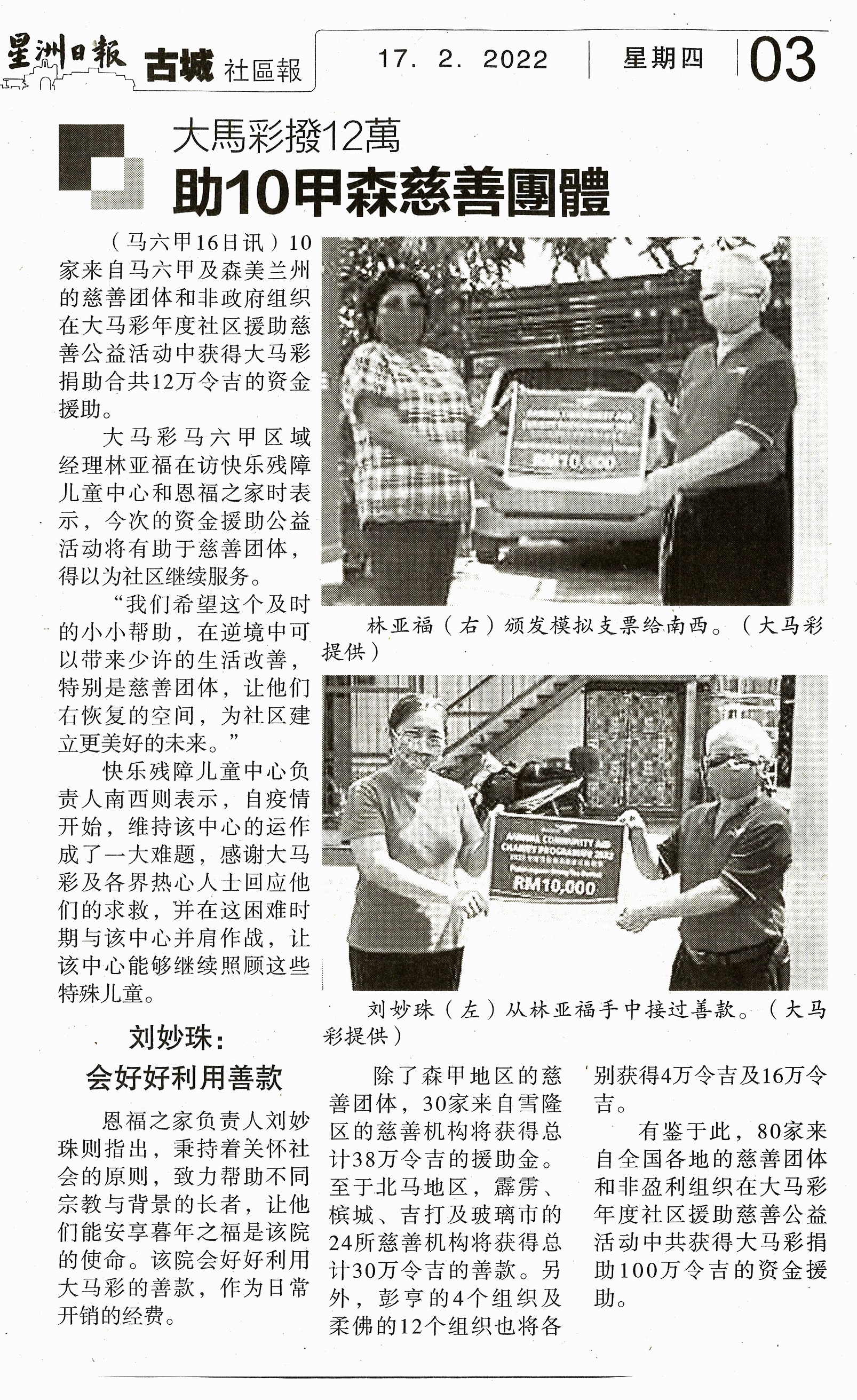 Sin Chew Daily - Melaka, p.03 (17 February 2022)

Ten charitable organisations from Melaka receive a total of RM120,000 financial aid from Da Ma Cai as part of its annual Community Aid Charity Programme.

Da Ma Cai Melaka Regional Manager Gerry Lim was at Pusat Kanak-kanak Terencat Akal Bahagia and Pusat Jagaan Orang Tua Berkat. He said the donation will go towards charitable organisations to continue their social service.
"We hope that our contribution will help improve the life of those in hardship, especially for charitable organisation so that they can recover and continue to build a better future for the community."

Pusat Kanak-kanak Terencat Akal Bahagia representative said, it was difficult to maintain its operation since the pandemic started, but they are thankful for Da Ma Cai's contribution in allowing the home to continue taking care of the special needs children.

Pusat Jagaan Orang Tua Berkat representative said that their principal was to care for the elderly so that they can enjoy their old age regardless of religion and background. They will use the funding from Da Ma Cai for their daily operation.

Aside from Melaka, a total of 30 charity bodies from Klang Valley received donations amounting to RM380,000 during the event. For the Northern Region, 24 charitable organisations located in Perlis, Kedah, Penang and Perak will be getting financial aid worth a total of RM300,000. 4 organisations in Pahang and 12 organisations in Johor will also receive a total of RM40,000 and RM160,000 respectively.

In total, eighty charitable organisations nationwide receive a total of RM1mil financial aid.