Da Ma Cai RM160,000 Community Aid for 12 welfare home in Johor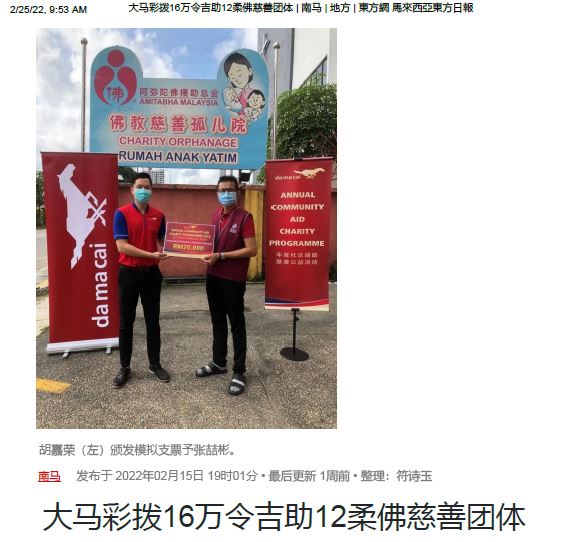 (新山15日讯)  12家来自柔佛的慈善团体和非政府组织在大马彩年度社区援助慈善公益活动中获得大马彩捐助合共16万令吉的资金援助。
大马彩柔佛区域经理胡嘉荣日前移交援助金予阿弥陀佛援助总会和善德儿童福利之家。他表示,此资金援助公益活动将有助于减轻慈善团体受新冠肺炎疫情冲击的负担。
"我们深知慈善工作需要永无止境的热枕与奉献,此举盼望各界多关注这些单位,在逆境中不忘雨中撑伞,为弱势带来温暖。"
阿弥陀佛援助总会主席张喆彬指出,该会设有敬老院、孤儿院及洗肾中心,平时是依靠回收物品所得以及公众捐款来维持运作,开销相当庞大。
"自新型冠状病毒疫情来袭,捐款瞬间停顿、筹募经费的活动也被迫取消;财力经费等面对严峻的挑战。感恩大马彩能缓急相济,为我们雪中送炭。"
善德儿童福利之家社工叶仕龙说,善德儿童福利之家去年爆发感染群,孩子们经历过疫情的袭扰,经历过生死边缘的恐惧。
"如今新变种病毒再次侵袭,面对著如何筹措孩子们的生活费用与开销,以度过未来日子的困境,我们无法坐以待毙,因此通过网络推广的方式来宣传,寻求各界的帮助,盼各界人士能捐助物资、食材及善款。"
https://www.orientaldaily.com.my/news/south/2022/02/15/468076
Oriental Daily (15 February 2022)
Da Ma Cai RM160,000 Community Aid for 12 welfare home in Johor
Twelve charitable organisations nationwide receive a total of RM160,000 financial aid from Da Ma Cai as part of its annual Community Aid Charity Programme.

Da Ma Cai Johor Regional Manager Dylan Foo presented the mock cheque to Pertubuhan Kebajikan Amitabha Malaysia and Pertubuhan Kebajikan Shan De Johor. He said that this community sharing and caring outreach initiatives will go towards providing financial aid to assist deserving charity centres affected by the Covid-19
pandemic.

"We know that charitable efforts requires passion and dedication, we hope to inspire everyone to bring warmth to those in need."
Chong Tzer Bin, Chairman of Pertubuhan Kebajikan Amitabha Malaysia said that they operates old folks home, orphanage and dialysis centre. They rely on recycling and public donation to maintain its operation with high expenditure.

"Since the pandemic started, donation has stopped coming in and fund raising activities was canceled. It's a challenge to maintain our finances, and we are thankful of Da Ma Cai's contribution."

Representative of Pertubuhan Kebajikan Shan De Johor said there was an outbreak of Covid in the orphanage last year, and the children was traumatized by the experience.

"With the new variant on the rise, we need to find ways to maintain our expenses during this challenging time. We are now utilizing social media to raise fund and collect food items."