Retailer took inspiration from movie and won Da Ma Cai jackpot worth RM24,720,000
Kwong Wah Daily (21 February 2020)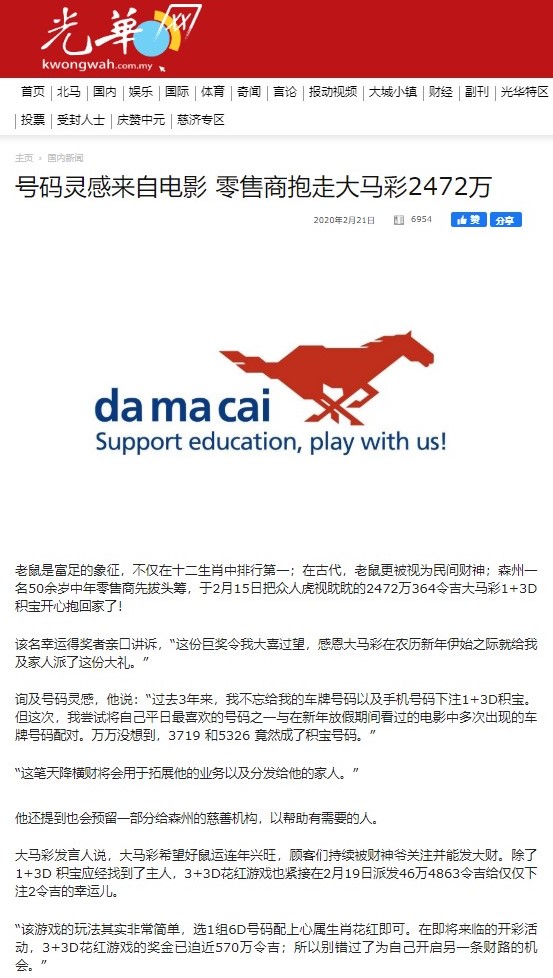 The Rat has the first and most prominent position in the Chinese Zodiac in the rotation of the 12 animals cycle of the Chinese Astrology, and it has bestowed a massive fortune to a lucky man from Negeri Sembilan. A retailer in his fifties was overwhelmed to learn that he struck it big when he won the RM24,720,364 Da Ma Cai 1+3D Jackpot recently on 15 February.
The lucky winner said, "I am still a bit surprised that I won such massive jackpot. Thank you Da Ma Cai for giving me and my family this prosperity gift at the start of the Chinese New Year. "
The winner shared his inspiration for the winning numbers saying, "I have been playing 1+3D Jackpot for the past three years with the combinations derived from my car registration number and phone number. But this time, I paired one of my usual favourite numbers with a car number appearing many times in a movie I watched during the Chinese New Year break. And, that lucky combination of "3719" and "5326" won the big jackpot."
He said he would use his newfound wealth in his business expansion, share some with his family and donate to charity homes in Negeri Sembilan.
Da Ma Cai spokesperson added," Da Ma Cai is setting the tone for customers with good fortune all year long and lots of winnings. Not just the 1+3D jackpot has been won, 3+3D Bonus also found a lucky winner of RM464,863.20 with a RM2 investment on 19 February! "
"This game is easy to play the game as one just needs to form a 6-digit numbers combination with a Bonus Chinese Zodiac. Therefore, don't miss out to create your own fortune as the coming draws, the 3+3D Bonus game has a total of close to RM5.7 million Bonus prize to be won."