Da Ma Cai Charity Event
24 NGOs each received RM10,000 donation
China Press - Northern, P.C5 (8 February 2020)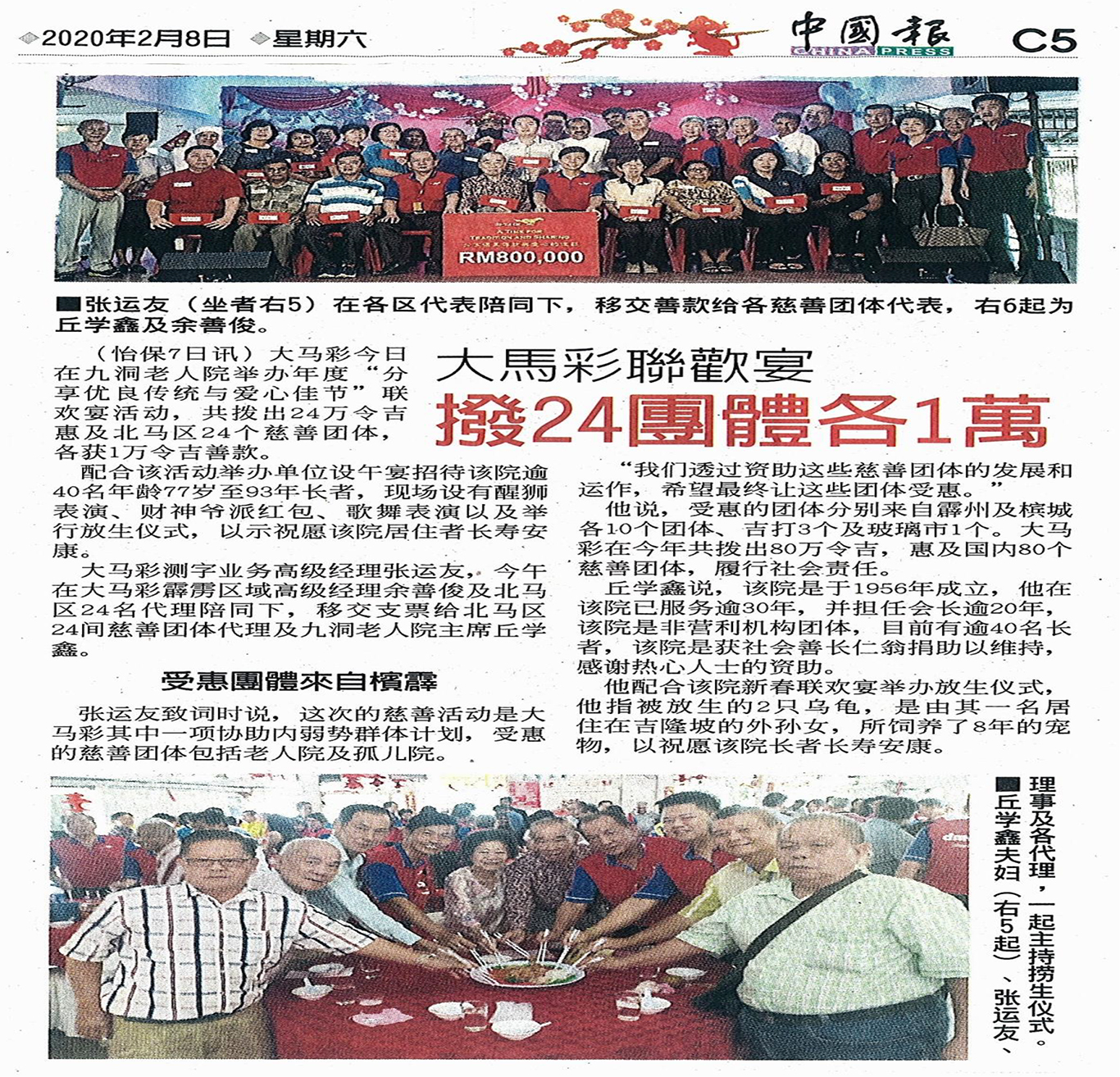 Da Ma Cai annual Chinese New Year charity event was held at Rumah Sejahtera Jelapang (RSJ). A total of 24 charitable organizations receive RM10,000 financial aid as part of Da Ma Cai yearly Chinese New Year Festival Charity Programme.
About 40 elders aged 77 to 93 years old from Jelapang Old Folks home attended the event. Programme of the event included lion dance performance, angpow distribution by God of Prosperity, musical performances and release of turtles.
Mr. Chong Yoon Yew, Senior Manager of Numbers Forecast Operations together with Mr. Yue Shen Chun, Perak Regional Manager and 24 agents, handed the financial aid to 24 charitable organization representatives.
Chong said that this community sharing and caring outreach initiatives aims to provide financial aid to assist deserving charity centres for its development.
"As part of our support for the needs of the community, this initiative aims to assist the community centres to defray the operating costs, which will benefits the residents of these centres," said Chong.
A total of 10 charity bodies from Perak, 10 from Penang, 3 from Kedah and an organisations from Perlis received donations during the event. Eighty charitable organisations nationwide receive a total of RM800,000 financial aid from Da Ma Cai as part of its yearly Chinese New Year Festival Charity Programme.
Chairman of RSJ, Hew Hock Hin said RSJ was founded in 1956. He has provided service to the home for the pass 30 years and was the chairman since 20 years ago. The home is a non-profit organization that provide care to 40 elders. The home receive donations from public.