Interior designer from Penang the sole winner of Da Ma Cai RM24.02 million jackpot
Sin Chew Daily – Nation, P.A3 (2 October 2019)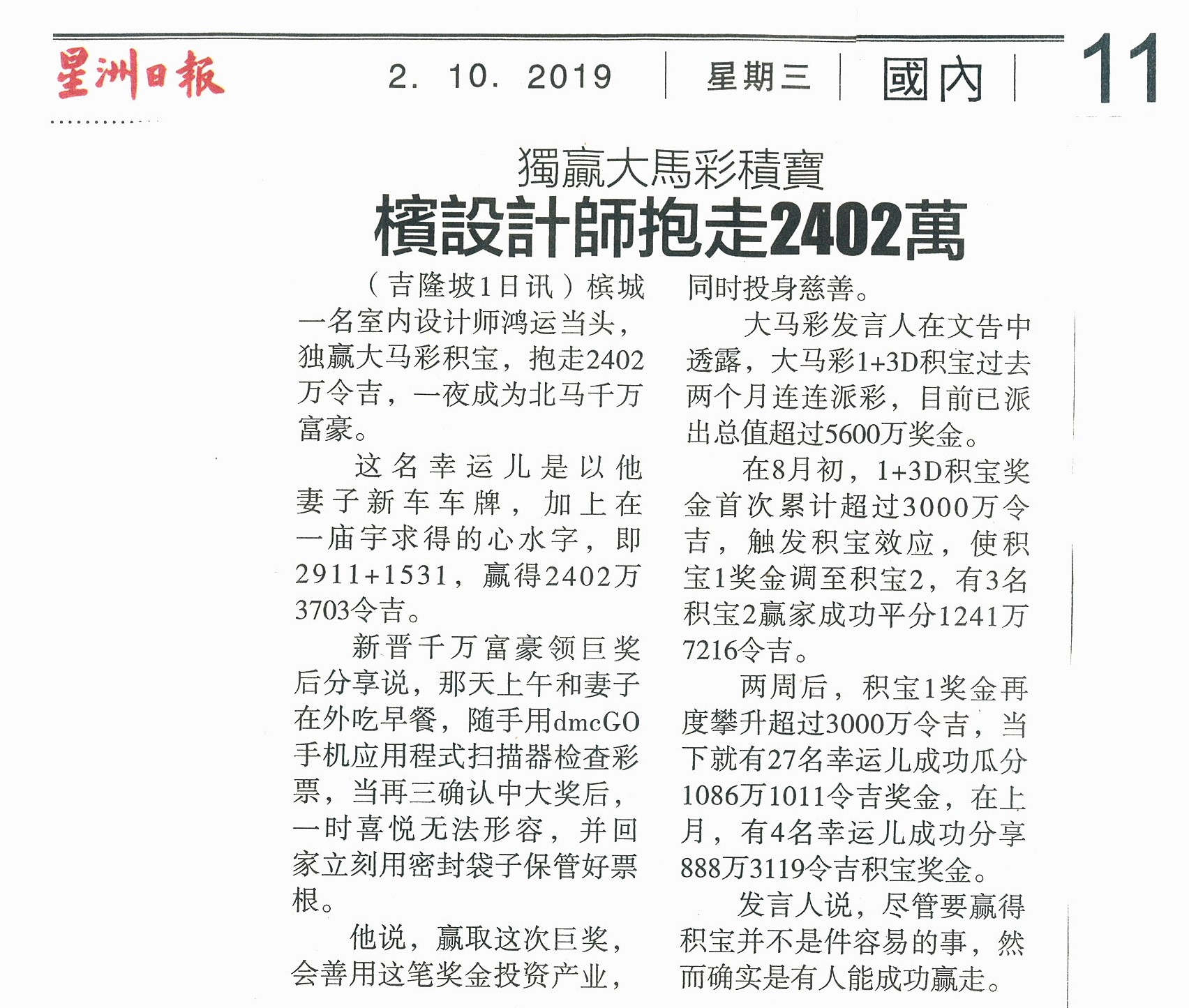 An interior designer from Penang turned overnight multimillionaire when he won the Da Ma Cai 1+3D Jackpot worth RM24.02mil.
The lucky winner played Da Ma Cai 1+3D Jackpot game with the number 2911 & 1531. The number was that of his wife's new car number and a lucky number that was given to him during his visit to temple. The combination ultimately wins him RM24,023,703.
The lucky winner said, he checked his ticket with the dmcGO apps ticket scanner together with his wife during breakfast. They were awestruck and speechless for a moment when the app showed that he had won the jackpot prize. They went home immediately to safe keep the ticket in a resealable bag.
The lucky winner planned to use some of the money to invest in properties and donate to charity.
Da Ma Cai spokesperson said, Da Ma Cai 1+3D Jackpot has given out over RM56 million in total prize money within the last two months.
He said that in early August, the 1+3D Jackpot 1 prize pool accumulated to over RM30 million, leading to the first cascading of Jackpot 1 prize money to Jackpot 2.
A total of three Jackpot 2 winners shared RM12,417,216. Two weeks later, when the 1+3D Jackpot 1 prize pool once again reach RM30 million, a total of 27 lucky winners shared 10,861,011. Subsequently in September, another 4 lucky winners shared partially the jackpot prize totalling RM8,883,119.
He added that while the odds of winning the jackpot may be high, the fact is that some people will eventually win.